Please take a few moments to learn about our skilled practitioner and our friendly, nurturing staff.
Alexis and Melissa joined our staff in 2021 as our part time Pediatric Nurse Practitioner. Jennifer, Jillian and Lorna are our front desk associates, Rachel is our Registered Medical Assistant and Karen is our Office Manager. Since iPeds is a learning environment, there are students that visit frequently.
At iPediatrics, we consider it both a great joy and responsibility to care for children. Most of us are parents ourselves, so we strive to be understanding and available to the families that we are privileged to serve. We are honored that you have chosen us as your child's primary medical provider and are confident that you will be pleased with the quality of care and service that we can provide you and your family.
A vital part of our service to children begins with our outstanding staff who works hard to manage and maintain a professional, caring and supportive environment for our patients in a timely manner. Our pediatric nurse practitioners are lifelong learners. Not only have they received advanced medical training in pediatrics, they continually pursue ongoing education to stay abreast of the latest in child health care.
Your child's health is as important to us as it is to you. We look forward to providing you with excellent medical care your child deserves.
Kristen DePuyt C. PNP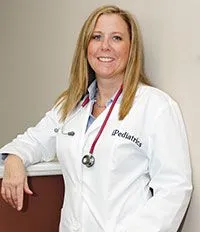 Kristen Puget-DePuyt is a board certified Pediatric Nurse Practitioner. She obtained her Bachelor's Degree in Nursing from William Paterson University and Masters degree in Nursing from Seton Hall University. Following completion of her graduate work, Kristen worked at Saint Barnabas Medical Center in high-risk obstetrics, pediatric and neonatal intensive care, and general pediatrics. Kristen left Saint Barnabas Medical Center to join Pediatric Professional Associates as a pediatric nurse practitioner in 1998. During her 14 years at PPA, Kristen provided exceptional pediatric care as a pediatric nurse practitoner in both the office and hospital setting. From doing rounds in the nursery, to caring for her patients that needed admission to the pediatric floor, Kristen has been an intergral part of the total health care process for her patients.
Kristen was appointed to the Medical staff at Chilton Memorial Hosptial in 2002. Currently, she has privileges at Chilton Medical Center.
She was awarded 'NJ's Favorite Kids' Docs' for 2012-2020. By recognizing her exceptional clinical skills, dedication, and caring nature, Kristen's patients contributed to her earning this distinguished award.
Kristen is a clinical instructor for Graduate level students at Seton Hall University, Rutgers University, and an undergraduate clinical instructor at William Paterson University.
Kristen's extensive experience brings a wealth of knowledge and expertise to pediatric healthcare. Through iPediatrics, she looks forward providing outstanding pediatric health care to her community.